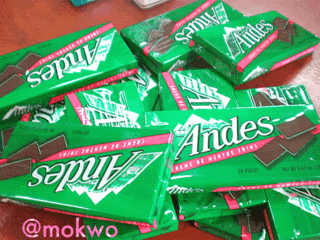 nak marah..hemmm tak jadi mokwo marah..heheheh..tapi apo eh mokwo nak buat ngan coklat byk2 nih...abih loi diet mokwo nampak gaya nye hemm padan lah ngan muka...
sebenornya coklat nih tak lain tak bukan pokwo lah yg bagi sebab mokwo ingat nak mogok ari nih...ingat sekali tak senonoh betullah mokwo nih dah tua2 mcm nih pun nak mogok gak cam budak2..so in order tak bagi mokwo masam muka dan mogok maka pokwo(my hubby) pun belilah coklat nih nak memujuk..heheh..byk plak tuh..nih mokwo tengah garu kepala ape nak buat ngan coklat yg byk nih!!
mokwo tanya "apasallah beli byk sangat??"..(mulalah nak start hangin balik)
pokwo pun katalah dgn selamba" simpanlah for the future, awak tu saya pahamlah..hormonal imbalance(perlilah tuh)...ari nih u take a rest....tak yah buat ape2"
so mokwo pun ape lagi, amek sekeping dan ngaplah...rasa choc n mintnye betul2 menenangkan....all the dark cloud just sweep away...tq Allah for granting me an understanding n patient hubby. what more could i ask!